---
FReeper Canteen ~ D-DAY, June 6, 1944 ~ 6 June 2017
Serving The Best Troops and Veterans In The Whole World !! | The Canteen Crew
Posted on 06/05/2017 6:01:36 PM PDT by Kathy in Alaska
~ D-DAY, June 6, 1944 ~
NORMANDY INVASION
May 1944 had been chosen at the conference in Washington in May 1943 as the time for the invasion. Difficulties in assembling landing craft forced a postponement until June, but June 5 was fixed as the unalterable date by Eisenhower on May 17. As the day approached and troops began to embark for the crossing, bad weather set in, threatening dangerous landing conditions. After tense debate, Eisenhower and his subordinates decided on a 24-hour delay, requiring the recall of some ships already at sea. Eventually, on the morning of June 5, Eisenhower, assured by chief meteorologist James Martin Stagg of a break in the weather, announced, "O.K. We'll go." Within hours an armada of 3,000 landing craft, 2,500 other ships, and 500 naval vessels—escorts and bombardment ships—began to leave English ports. That night 822 aircraft, carrying parachutists or towing gliders, roared overhead to the Normandy landing zones. They were a fraction of the air armada of 13,000 aircraft that would support D-Day.







Canteen Mission Statement
Showing support and boosting the morale of
our military and our allies' military
and family members of the above.
Honoring those who have served before.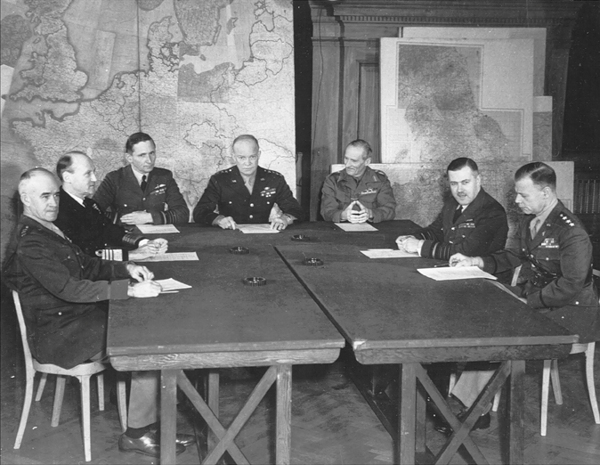 January 1944 meeting of Operation Overlord Commanders, General Eisenhower, Walter B. Smith, Omar Bradley, Arthur Tedder, Bernard Montgomery, Trafford Leigh-Mallory and Bertram Ramsay. The Eisenhower Presidential Library
GENERAL EISENHOWER'S MESSAGE SENT JUST PRIOR TO THE INVASION
Soldiers, Sailors and Airmen of the Allied Expeditionary Force! You are about to embark upon a great crusade, toward which we have striven these many months. The eyes of the world are upon you. The hopes and prayers of liberty loving people everywhere march with you. In company with our brave Allies and brothers in arms on other fronts, you will bring about the destruction of the German war machine, the elimination of Nazi tyranny over the oppressed peoples of Europe, and security for ourselves in a free world.
Your task will not be an easy one. Your enemy is well trained, well equipped and battle hardened, he will fight savagely.
But this is the year 1944! Much has happened since the Nazi triumphs of 1940-41. The United Nations have inflicted upon the Germans great defeats, in open battle, man to man. Our air offensive has seriously reduced their strength in the air and their capacity to wage war on the ground. Our home fronts have given us an overwhelming superiority in weapons and munitions of war, and placed at our disposal great reserves of trained fighting men. The tide has turned! The free men of the world are marching together to victory!
I have full confidence in your courage, devotion to duty and skill in battle. We will accept nothing less than full victory!
Good Luck! And let us all beseech the blessings of Almighty God upon this great and noble undertaking.
— Gen. Dwight D. Eisenhower
D-DAY AIRBORNE AND BEACH ASSAULT
The Normandy beaches were chosen by planners because they lay within range of air cover, and were less heavily defended than the obvious objective of the Pas de Calais, the shortest distance between Great Britain and the Continent. Airborne drops at both ends of the beachheads were to protect the flanks, as well as open up roadways to the interior. Six divisions were to land on the first day; three U.S., two British and one Canadian. Two more British and one U.S. division were to follow up after the assault division had cleared the way through the beach defenses.
Click for the rest of the story
A Nightingale Sang In Berkeley Square
CHANCE MEETING BRINGS CAVALRY SERGEANT FACE-TO-FACE WITH D-DAY VETERAN
Sgt. 1st Class Steve Selvage of the 3rd Squadron, 2nd Stryker Cavalry Regiment gets an autograph from 91-year-old D-Day survivor Ralph Manley in Sainte Mere Eglise, France, June 1. The two met while Selvage was in town to participate in events commemorating the 65th anniversary of the Normandy invasion.
Click for the rest of the story
AIRBORNE MUSEUM HOUSES ONE-OF-A-KIND ARTIFACTS
THAT HONOR HISTORIC JUMP DURING D-DAY INVASION
SAINTE MERE EGLISE, France – This town loves paratroopers – in particular, American paratroopers from the 82nd Airborne and the 101st Airborne Divisions.
It was those two divisions that liberated Sainte Mere Eglise June 7, 1944, making it the first town in France to be liberated during World War II.
To show their appreciation for the veterans, an Airborne Museum opened here in 1964. A non-profit organization, all proceeds go back into the museum to pay for upkeep, new exhibits or extensions. The money is also used to provide decorations and celebrations for the anniversary of D-Day, travel for veterans, and exhibitions outside France. A large donation was also made to The National World War II museum in New Orleans, La.
Don't Sit Under The Apple Tree
SOLDIERS PREP TO SUPPORT D-DAY CEREMONIES FOR
65TH ANNIVERSARY OF INVASION
> Senior staff members of Task Force Normandy 65 pose in front of a German gun post at Pointe du Hoc, France. Task Force Normandy 65 is in France providing support and ceremonial command and control for the 65th anniversary of D-Day, June 6. Pointe du Hoc is the site of the 2nd Ranger Battalion's assault on a German stronghold during D-Day. Photo credit Sgt. Fay Conroy, 21st Theater Sustainment Command Public Affairs
Click for the rest of the story
NORMANDY AMERICAN CEMETERY AND MEMORIAL
The Normandy American Cemetery and Memorial in France is located on the site of the temporary American St. Laurent Cemetery, established by the U.S. First Army on June 8, 1944 and the first American cemetery on European soil in World War II. The cemetery site, at the north end of its ½ mile access road, covers 172.5 acres and contains the graves of 9,387 of our military dead, most of whom lost their lives in the D-Day landings and ensuing operations. On the Walls of the Missing in a semicircular garden on the east side of the memorial are inscribed 1,557 names. Rosettes mark the names of those since recovered and identified.
Click for the rest of the story
Please remember that The Canteen is here to support
and entertain our troops and veterans and their families,
and is family friendly.
---
TOPICS: Culture/Society; Extended News; Free Republic
KEYWORDS: canteen; dday; military; troopsupport
---
ANNOUNCEMENT: We have installed a new SHA-256 secure server certificate on our freerepublic.com domain and we have a NEW donate link:

https://freerepublic.com/donate/
FR is now more secure than ever! Google, Firefox, et al, were flagging our old SHA-1 secure server as "not secure" even though our certificate was paid-up, still valid, still in force and our secure server was still encrypting our donation transactions as securely as always to the SHA-1 standard. You should see a green "Secure" padlock now when you click on our new donate link and that signifies that your transaction will be encrypted by the newly installed SHA-256 routine. We have a little more work to complete for redirects, etc, but when it's done, everything on https://freerepublic.com will be served as secure documents.
Donate securely online: Click here to enter your pledge by Credit Card, PayPal or Check! (make it a monthly if you can)
The old SHA-1 secure.freerepublic.com link and server will be phased out and retired. When John finishes with the redirects, the old posts containing the old link will automatically be redirected to the new link.
Thank you very much for your loyal support and for bearing with us!
Mailing address for checks or money orders: Free Republic, LLC – PO Box 9771 – Fresno, CA 93794
---
To: Kathy in Alaska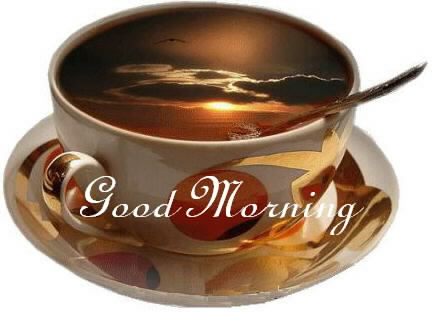 Freep mail me to be on or off the Daily Bread ping list
Fifteen-Minute Challenge
June 6, 2017
Turn my heart toward your statutes. Psalm 119:36
Dr. Charles W. Eliot, longtime president of Harvard University, believed that ordinary people who read consistently from the world's great literature for even a few minutes a day could gain a valuable education. In 1910, he compiled selections from books of history, science, philosophy, and fine art into fifty volumes called The Harvard Classics. Each set of books included Dr. Eliot's Reading Guide titled "Fifteen Minutes A Day" containing recommended selections of eight to ten pages for each day of the year.
What if we spent fifteen minutes a day reading God's Word? We could say with the psalmist, "Turn my heart toward your statutes and not toward selfish gain. Turn my eyes away from worthless things; preserve my life according to your word" (Ps. 119:36–37).
Fifteen minutes a day adds up to ninety-one hours a year. But for whatever amount of time we decide to read the Bible each day, consistency is the secret and the key ingredient is not perfection but persistence. If we miss a day or a week, we can start reading again. As the Holy Spirit teaches us, God's Word moves from our minds to our hearts, then to our hands and feet—taking us beyond education to transformation.
"Teach me, Lord, the way of your decrees, that I may follow it to the end" (v. 33).
I turn to You, the Author, to teach me as I read Your Word today. I want to hear from You, to know You, and to grow closer to You.
Join the Fifteen-Minute Bible Reading Challenge! Visit Facebook.com/ourdailybread.
The Bible is the only Book whose Author is always present when it is read.
Psalm 119 is the longest chapter in the Bible. Each new section starts with a successive letter from the Hebrew alphabet (known as an acrostic poem). The major emphasis of this psalm is to celebrate the usefulness and value of the law. In Psalm 119 the author uses a variety of words to describe the laws and commands of God. Eight times he mentions meditating: on God's decrees (vv. 23, 48), deeds (v. 27), precepts (vv. 15, 78), laws (v. 97), statutes (v. 99), and promises (v. 148). Meditation is the act of thinking deeply about something, focusing intently on an idea. We really get to know the commands of God by meditating on them. Reading is the necessary first step, but once we have read His Word, meditating on it throughout the day helps us to keep it in our minds. 
Do you want to learn more about spending time with God? Read In His Presence at discoveryseries.org/q0718.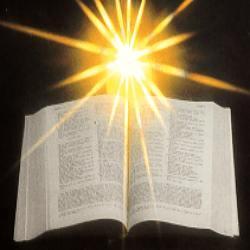 2
posted on
06/05/2017 6:01:54 PM PDT
by
The Mayor
(Honesty means never having to look over your shoulder.)
---
To: Kathy in Alaska
Great job remembering this historic day in American Military might and patriotism when the Greatest Generation began their liberation of Europe.
3
posted on
06/05/2017 6:03:59 PM PDT
by
PROCON
(The Paris Accord was an attempt to get America to sign onto the new World Religion.)
---
To: Kathy in Alaska
Hi Everybody!
((((HUGS))))
4
posted on
06/05/2017 6:05:50 PM PDT
by
left that other site
(You shall know the Truth, and The Truth Shall Set You Free.)
---
To: PROCON; Kathy in Alaska
Agreed!
It is a beautiful Presentation.
5
posted on
06/05/2017 6:07:32 PM PDT
by
left that other site
(You shall know the Truth, and The Truth Shall Set You Free.)
---
To: Kathy in Alaska; All
Gen Eisenhower's D-Day Letter:
" My Fellow Americans:
Last night, when I spoke with you about the fall of Rome, I knew at that moment that troops of the United States and our Allies were crossing the Channel in another and greater operation. It has come to pass with success thus far.
And so, in this poignant hour, I ask you to join with me in prayer:
Almighty God: Our sons, pride of our nation, this day have set upon a mighty endeavor, a struggle to preserve our Republic, our religion, and our civilization, and to set free a suffering humanity.
Lead them straight and true; give strength to their arms, stoutness to their hearts, steadfastness in their faith.
They will need Thy blessings. Their road will be long and hard. For the enemy is strong. He may hurl back our forces. Success may not come with rushing speed, but we shall return again and again; and we know that by Thy grace, and by the righteousness of our cause, our sons will triumph.
They will be sore tried, by night and by day, without rest—until the victory is won. The darkness will be rent by noise and flame. Men's souls will be shaken with the violence of war.
For these men are lately drawn from the ways of peace. They fight not for the lust of conquest. They fight to end conquest. They fight to liberate. They fight to let justice arise, and tolerance and goodwill among all Thy people. They yearn but for the end of battle, for their return to the haven of home.
Some will never return. Embrace these, Father, and receive them, Thy heroic servants, into Thy kingdom.
And for us at home—fathers, mothers, children, wives, sisters, and brothers of brave men overseas, whose thoughts and prayers are ever with them—help us, Almighty God, to rededicate ourselves in renewed faith in Thee in this hour of great sacrifice.
Many people have urged that I call the nation into a single day of special prayer. But because the road is long and the desire is great, I ask that our people devote themselves in a continuance of prayer. As we rise to each new day, and again when each day is spent, let words of prayer be on our lips, invoking Thy help to our efforts.
Give us strength, too—strength in our daily tasks, to redouble the contributions we make in the physical and the material support of our armed forces.
And let our hearts be stout, to wait out the long travail, to bear sorrows that may come, to impart our courage unto our sons wheresoever they may be.
And, O Lord, give us faith. Give us faith in Thee; faith in our sons; faith in each other; faith in our united crusade. Let not the keeness of our spirit ever be dulled. Let not the impacts of temporary events, of temporal matters of but fleeting moment—let not these deter us in our unconquerable purpose.
With Thy blessing, we shall prevail over the unholy forces of our enemy. Help us to conquer the apostles of greed and racial arrogances. Lead us to the saving of our country, and with our sister nations into a world unity that will spell a sure peace—a peace invulnerable to the schemings of unworthy men. And a peace that will let all of men live in freedom, reaping the just rewards of their honest toil.
Thy will be done, Almighty God.
Amen."
6
posted on
06/05/2017 6:10:36 PM PDT
by
left that other site
(You shall know the Truth, and The Truth Shall Set You Free.)
---
To: The Mayor
Good evening, Mayor, and thank you for today's sustenance for body and soul.
Hope you made it through Monday ok…..I haven't yet.
7
posted on
06/05/2017 6:11:42 PM PDT
by
Kathy in Alaska
((~RIP Brian..the Coast Guard lost a good one.~))
---
To: Kathy in Alaska
Funny.
The Med and the North Of Africa are on fire again,
Come to think of it when were they not?
---
To: Kathy in Alaska
Thank you for this, Kathy…
My father would've loved this….He was there…..
---
To: Kathy in Alaska
Funny.
The Med and the North Of Africa are on fire again,
Come to think of it when were they not?
When was the Channel quiet? The Bosporus straits?
---
To: Kathy in Alaska
Hats off to the Greatest Generation!
11
posted on
06/05/2017 6:21:13 PM PDT
by
lightman
(Trump = A glorious amalgamation of Andrew Jackson, Teddy Roosevelt, and Ronald Reagan!)
---
To: Kathy in Alaska
Theresa May needs to find her inner Churchill.
---
FreeRepublic.com is powered by software copyright 2000-2008 John Robinson
This post originally appeared on Free Republic
.